Shop RVs at ExploreUSA RV Supercenter - Denton, Texas
Contact ExploreUSA in Denton, Texas
Hours
---
Sales
MON - FRI: 8AM - 7PM
SAT: 8AM - 6PM
SUN: 11AM - 4PM
Service
MON - FRI: 8AM - 5PM
SAT: 8AM - 5PM
SUN: CLOSED
RV Dealer near Me Denton TX
Prepare to have an enjoyable RV-buying experience when you visit us at ExploreUSA. As a premier RV dealer in the Denton, TX, area, we're here to ensure that your RV-shopping experience is as flawless and simple as possible. From start to finish, you'll find that our experts have prioritized your satisfaction, which is why our customer service is as amazing as the vast selection we have to offer you. Shop RVs near Denton today!
We're home to America's favorite brands and offer options for every explorer, from Travel Trailers to Class A motorhomes, so you're sure to leave with the perfect recreational vehicle for your needs. Once you drive off our lot, our relationship doesn't end. Instead, we'll continue to be there for you every step of the way to make sure you're getting the routine RV service and major repairs you may need for years to come.
Denton RV Sales
Find a New Trailer or Motorhome
In our massive inventory, you'll find Travel Trailers, Fifth Wheels, Toy Haulers, and more. Each one has their own host of benefits and the answer to which one is right for you lies in your specific lifestyle needs:
Wondering which of these models is the right match for you? Stop on by our showroom to meet with one of our RV experts. We'll take the time to get to know you and your specific travel plans, so we can pair you up to the right Travel Trailer, Fifth Wheel, or motorhome.
We have a number of different floor plans available to choose from, with varying sizes and amenities. We'll take the time to walk you through all the different options available to you, so you can choose the comfort, space, style, and ruggedness all your adventures call for.
Take a look at our full inventory—including new, used, and clearance RVs—to find the perfect model for you. When you're ready, we'll take you for a tour and/or test drive, so you can feel confident you're making a well-informed decision.
Used RVs for Sale in Denton Texas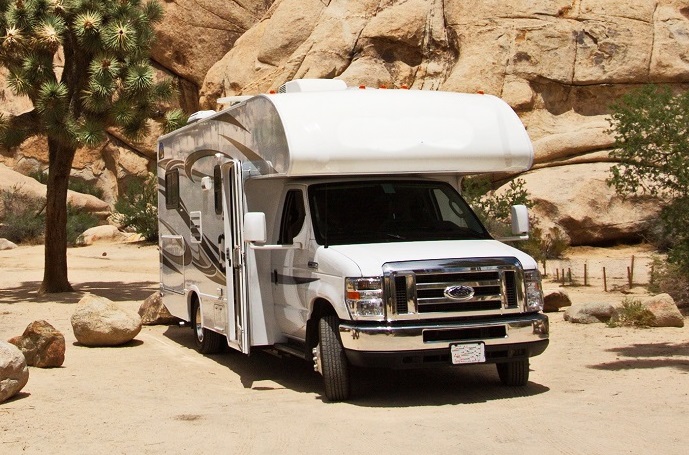 To suit a wide range of Denton, TX, lifestyles, our RV dealer also has used RV models to offer you. RVs are homes on wheels and—just like your house—they are built to last a long time and withstand extreme conditions. Therefore, you can buy a pre-owned model and still be able to enjoy it for many miles to come.
Once again, our team will be by your side to help you find the right match for your specific needs. If you're looking for a Travel Trailer, we'll show you a range of floor plans, taking into account how much your SUV or truck can tow.
If instead you want a motorhome, we'll help you narrow down your options based on mileage, as well as interior amenities.
Shop Online First
Beyond just offering new RV models, we're here to simplify your shopping experience. To do that, not only do we offer a wide selection of your favorite RV models, we also have a fully functional online inventory, where you can browse floor plans, photos, specifications, and more.
Wrap yourself up in your favorite blanket, make yourself a cup of tea, and cuddle up on your couch with your laptop while you browse through the current new and used RVs we have available to you. Once you have a list of models you're interested in, just give us a call to learn more and we'll set up a time for you to take a tour and/or test drive.
Our inventory changes often, especially our pre-owned options—since RV owners can sell their camper with us—so be sure to check back often for our most updated inventory.
RV Financing
After finding your ideal RV, you'll probably be eager to hit the road and start exploring. Save time by financing right at our dealership and you'll be able to hitch up sooner.
To help streamline and personalize the entire RV-financing process, we proudly feature a team of hardworking and knowledgeable financing specialists. There are many perks to financing through our dealership, some of which include:
A dedicated team boasting years of experience in the business working with a wide range of lifestyle needs.
Financing specialists who have forged strong relationships with local banks and lenders
Personalized financing based on your credit profile, age, type of RV, cost of RV, and individual needs.
A payment schedule crafted to your personal lifestyle
To help simplify this process further, we also have an online RV-financing application. While you're still cozy on the couch after browsing our inventory, simply pop over to our financing page to fill out this application. Answer a few simple personal questions and you'll be able to see what you qualify for before stepping foot into our RV dealer in Denton.
Want to upgrade your current RV? We also have an online trade-in calculator to assist you. Answer a few questions about the condition of your trailer or motorhome and we'll give you an estimated value. This information can help you build a more accurate budget, so give us a call if you want to know how your trade-in will affect your financing rate.
Whether you start the finance process online or in person, a member of our team promises to be by your side every step of the way, including when it comes to selling your RV.
How to Sell Your RV With Us
You've spent years with your Travel Trailer, seeing the great sights of the United States, from the Grand Canyon to the Yosemite National Park. You love your home-on-wheels, but now you and your partner want more space for your growing family. Selling an RV can be a very simple process, since used RVs are in high demand. However, you may be unsure of where to start.
That's where our team comes in.
You can easily sell your RV through our Denton, TX, dealer, so you can get behind the wheel of a new Class A motorhome. Some of the major perks of selling with us include:
Personalized service with one of our RV experts
Competitive pricing because we want to expand our inventory
Loan paid off when the RV is sold—less paperwork!
Advertising through our dealership
Service and detailing discounts to get your current RV in great shape to be sold
Once your RV sells, stop in to meet with a member of our team. We'll show you all the options for your next trailer, Fifth Wheel, or motorhome and work in tandem with our finance department to apply your sale to your financing plan.
RV Repair & Service
RVs are built to roam far and wide and the last thing you want to worry about is whether your tires or engine can handle the journey.
Stop on by our on-site RV repair and service center to schedule an appointment with an experienced technician. From keeping your motor running smoothly with quick and simple maintenance to more major repairs like your water filtration system or air conditioning, we've got you covered.
Our technicians have years of experience working with various models and brands and will take the time to get your RV in peak condition again. If you have any questions about your motorhome or trailer's performance, just give us a call and we'll gladly assist you in any way we can!
Visit Our RV Dealer near Denton TX Today
If you're looking for an RV dealer in Denton, Texas, where you can find a trailer or motorhome ready for thrilling and unforgettable adventures, then you're already in the right place.
Visit ExploreUSA for an unparalleled experience. We look forward to meeting with you and helping you in any way we can!