Shop RVs at ExploreUSA RV Supercenter - Fort Worth, Texas
Contact ExploreUSA in Fort Worth, Texas
Hours
---
Sales
MON - FRI: 8AM - 7PM
SAT: 8:30AM - 6PM
SUN: 11AM - 4PM
Service
MON - FRI: 8AM - 6PM
SAT: 8AM - 6PM
SUN: CLOSED
RV Dealer near Fort Worth TX
ExploreUSA is the premier RV dealer near Fort Worth, TX. Whether you're embarking on a cross-country road trip or a weekend camping excursion, our RV supercenter is the place to begin. We have a generous inventory and a knowledgeable staff ready to give you a tour. Shop RVs near Fort Worth today!
Are you looking for a new or used RV? Do you need a Class A motorhome or a Toy Hauler Travel Trailer? We have it all here at our RV dealer near Fort Worth, Texas. We can help you secure a financial offer and service your RV, so you'll be confident on every adventure.
New RVs for Every Journey
Whether you're looking for big, bold, and luxurious or compact and cozy, our RV dealer has a recreational vehicle that will fit into every lifestyle. You can even start shopping for your perfect match online.
The RVs we have for sale near Fort Worth include: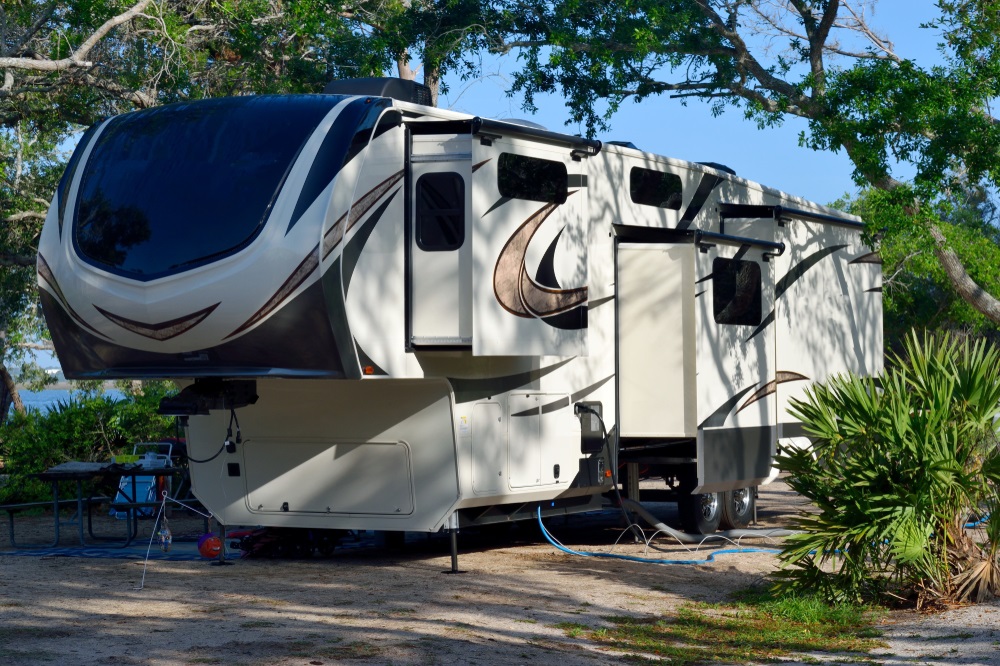 We have a vast selection of trailers and motorhomes here at our RV dealer, so finding the one that matches your adventurous spirit will be a breeze.
You can meet with one of our sales experts who will get to know you and your fellow explorers and help pair you with an RV that suits everyone's needs. They'll introduce you to all the technology and convenience features and give you a full tour of any RV you have your eye on.
Used RVs for Sale near Fort Worth TX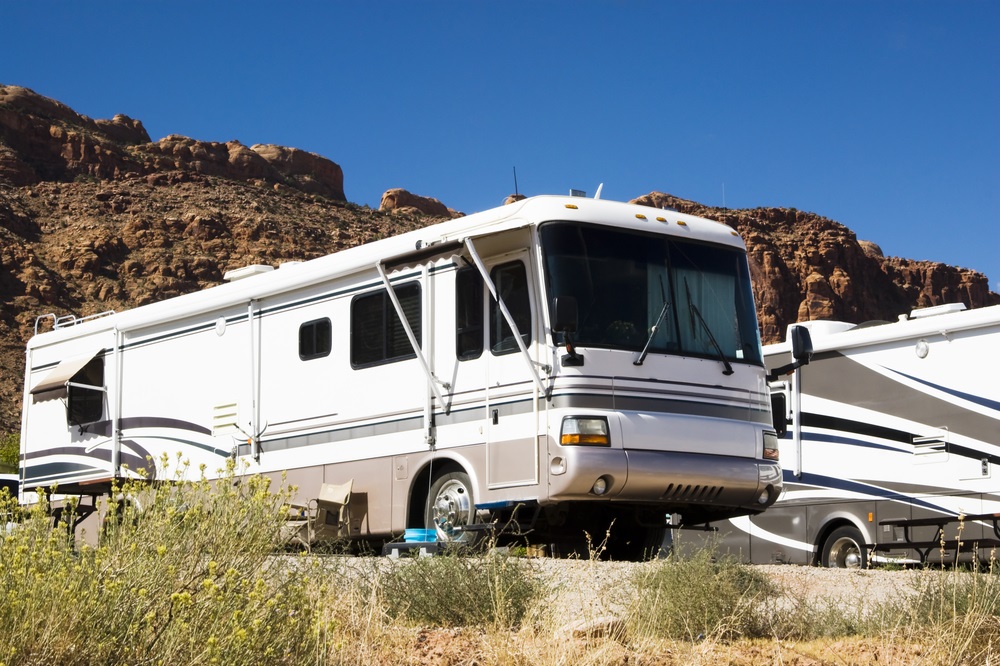 If you're on the hunt for a pre-owned RV, our dealership near Fort Worth is the place to go. We have a generous lineup of used motorhomes and trailers for sale. You can start shopping online. When one catches your eye, stop by our dealership for a tour.
Modern trailers and motorhomes are built to last. They offer value, reliability, and most of all, fun. You can choose an RV from any model year and rest assured that it still has many more adventures to offer.
Buying a used RV is a great investment. You'll be able to explore the country from one coast to the next and never set foot in a hotel. Pre-owned motorhomes and trailers are also known to hold their value over the years. When the time comes to part ways, you may be able to get a great return on your investment.
A member of our sales team can show you your options based on the year, mileage, and specific features you're looking for. If you have your sights set on a used motorhome, we can show you RVs with gas and diesel engines.
Once you have a few favorites on your shortlist, we'll take you for a tour. All the used RVs we have for sale near Fort Worth have their own unique history, floor plan, and style. We're ready to show you the motorhomes or trailers that best suit your personal needs.
RV Financing
By the time you find the RV that you want to take on an adventure, you may have your sights set on the Water Gardens or the Kimbell Art Museum. After all, Fort Worth is a great place to kick off any road trip. You'll want to secure RV financing before setting off. Our RV financing center can help!
Why Finance Your RV?
When you choose to finance a new or used RV, you'll be able to maintain financial flexibility, so you can continue working towards your future goals and have more peace of mind on every journey.
You should also consider these facts:
We have years of experience with RV financing. We work closely with a vast network of lenders, and we'll work hard to make sure you receive the most desirable financing solution.
 
We can help keep your down payments low. Although final terms are determined based on your credit profile and the age, type, and cost of the RV being purchased, we will work with you to keep your down payment within your budget parameters.
 
Our goal is to get you lower monthly payments. Our RV financing specialists know the industry, so they can create a repayment schedule that results in the lowest monthly payments possible while helping you afford the RV of your dreams.
Once you apply for RV financing online, our team will gather all the offers you're eligible for. We will go over all the details, so you can choose the financial route that works best for you. That way, you'll have more confidence when you sign. We can even find out if your RV qualifies for a tax deduction!
We have a rotating lineup of RV clearance specials available at our dealership. Check them out now! There may be one available that will add even more value to your next recreational vehicle.
Do we take trade-ins? You better believe it! If you're planning on trading in your current RV, our Value Your Trade tool will estimate its worth. All you have to do is answer a few basic questions. That will get you more prepared to make a down payment.
Sell My RV
Saying goodbye to a steadfast travel companion like your RV is tough, but the team at our RV dealer near Fort Worth is here to make it easier. Whether you're looking to sell, trade in, or consign, we're here to guide you through every step and answer each question you may have along the way.
You can fill out our trade-in application online to get an evaluation. You can also bring your RV to our dealership, and we'll take the time to go over the details with you and give you an appraisal.
Here are some of the advantages to selling your RV at our dealer near Fort Worth:
You'll get to work with our team of dedicated experts.
We'll pay off your loan once your RV is sold.
You'll receive discounts on service and detailing.
You can consign your RV with us.
We'll handle all the paperwork.
What does it mean to consign your RV? Basically, you'll maintain ownership of the vehicle, while we work to sell it to a third party. One of the biggest benefits of consigning your RV with us is the exposure. You're RV will get national exposure, seven days a week. When it catches the eye of a buyer, our sales team will represent you!
RV Repair & Service near Fort Worth TX
Whether you're out hiking through wide-open spaces or eating the best chicken sandwich you've ever had at a restaurant you've never heard of, it's important to have a service team at your back that will keep your RV running great for years to come. That's where our RV repair and service center near Fort Worth comes in.
Our team of technicians and mechanics is factory-trained and RVIA-certified. They have years of knowledge and experience you can rely on. Whether it's something as simple as an oil change or a more in-depth service repair, you'll have peace of mind when you leave your RV with us.
The following is just a short sample of some of the services we provide at our dealership:
Roof repair
Plumbing maintenance
Electrical system repair
HVAC maintenance
Slide-out repair
Brake repair and replacement
Leaky window and seam repair
Engine and powertrain service
Tire repair and replacement
We only use genuine parts here at our RV service center. They're made using high-quality materials, so they're sure to fit just right and provide a long-lasting fix.
If you notice any problems with your RV or it's due for some routine maintenance, you can schedule a service appointment online!
Stop by Our RV Dealer near Fort Worth Today
Is a road trip or camping excursion calling your name? Answer it with an RV from ExploreUSA.
We have a generous inventory here at our RV dealer near Fort Worth, Texas, and we're ready to help you find one that matches your adventurous spirit.
Contact our RV dealership today!